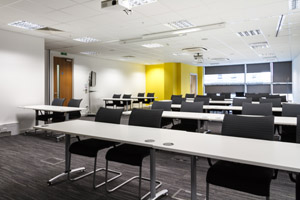 All the reasons why the Imparando City of London Learning Centre is your first-choice venue for technical training / IT training rooms and suites also hold true for non-technical training.
In this exceptional purpose-built, purpose-designed and purpose-equipped training facility you benefit from:
Superb state-of-the-art training rooms with space for up to 54 delegates in a single training room
Separate Dedicated Training Suites for companies that require self-contained, service training spaces
An abundance of natural daylight in all training rooms, training suites and event spaces
Fresh air and temperature carefully controlled by the latest internal environmental systems
On-site support, before your event and during the event
Internet access offering up to 100Mbps access over a secure dedicated fibre line for Instructor presntation/remote access requirements
High quality, healthy catering options and free refreshments
Full flexibility to have the room configured to meet your every need.
If you don't need PCs and monitors on every desktop, that's fine. If you don't need desks, even, that's fine too. We'll set the room up exactly as you want it, with all the tools you need – whiteboards, flip charts and so forth. We can even take care of things such as courseware to make your life simpler.
As a training centre and an environment designed specifically to help you achieve top results, it's unbeatable.